Welcome to the Grimm Fairy Tales Presents: Wonderland Wiki
Welcome to the Wonderland Wiki. This site is dedicated to the various Wonderland series that have been put out by Zenescope Entertainment, Inc. This includes the original Wonderland Trilogy the fifty isses series following Calie and her daughter, Violet, and all other mini series and crossover appeances.
If you'd like to help out with the editing of this site, feel free to jump in and start editing, but be sure you check out the rules first. Information from other versions of Wonderland may be used for comparison, but may not otherwise be used on this site. As of today, January 26, 2022, this wiki contains 340 articles and 1,644 images.
Calie • Violet • Johnny • Alice • Liddle • Brandon • White Rabbit • Jabberwocky • Julia, Queen of Hearts • Bethany, Queen of Hearts • Regina, Queen of Spades • Cheshire Cat • Julie, Queen of Hearts • Salome, Queen of Hearts
Article of the Month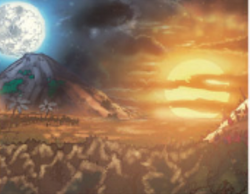 Once the realm of deams, Wonderland was long ago tainted by the malevolence of the Jabberwocky. It quickly turned into a realm full of nightmares and insanity. The Jabberwocky was ultimately destroyed by Alice's Daughter, Calie Liddle, leaving Wonderland without a ruler and still in disarray.
Character of the Month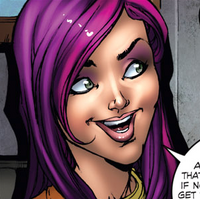 Melody Kendrick was Calie's best friend. She met Calie and Brandon when Calie was on the run from her past during Beyond Wonderland and was murdered by the Cheshire Cat at Johnny's suggestion.
Melody was of the opinion that all guys where scum and said as much when Brandon was kidnapped into Wonderland, believing, as Calie did at the time, that Brandon just couldn't handle his pregnant girlfriend. Since Calie was on the run, Melody never did know what Calie's real name was, believing instead that it was Lacie. Recently Violet's new friend, Harmony, reminded Calie of her long dead best friend.
Vote for next month's character of the month
Issue of the Month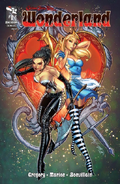 Calie Liddle is BACK! And the series that every Zenescope fan has been waiting for is finally here. When Calie escaped from Wonderland she wanted to believe she was finally free from the realm of madness. She wanted to believe she could live a normal life. But she was wrong. Now Calie and her daughter Violet are on the run from the realm of madness. Meanwhile, a child returns from a carnival with a special hat that will mean murder and chaos for all those who cross his path. The Wonderland ongoing series begins NOW! Featuring covers by superstar artist J. Scott Campbell, Ebas, and many more!
Vote for next month's issue of the month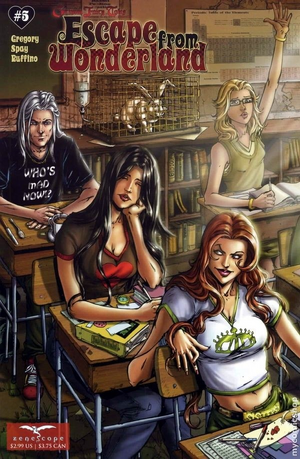 Recent Uploads
Quote of the Month
"I wouldn't answer that if I was you. You are in no position at all to be taking phone calls. Hello, this is the Carrol Liddle Crisis Hotline. How may I direct your call? Press one for my brother killed my dad, went on a rampage in New York and murdered all my friends and tried to kill me. Press two for fluffy white rabbits, because everyone loves white rabbits. Speaking of rabbits, whatever happened to the..."
— Calie Liddle's Subconconscious
Vote for next month's quote-of-the-month
Video of the Month
Vote for next month's video-of-the-month
Poll of the Month
This is the first poll on this site.